Mercedes-Benz EQV in Endurance Test in Ice and Snow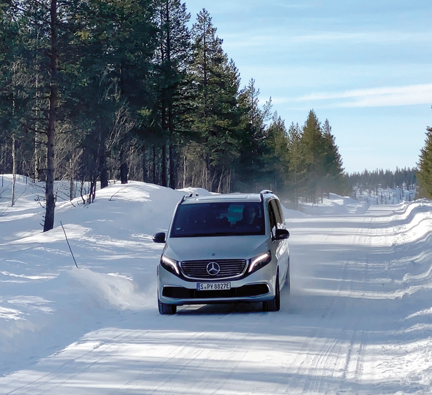 Commercial and private users place the same demands on electric vehicles as they do on equivalent vehicles with combustion engines: complete reliability and functionality – even in severe conditions. That was exactly what the winter test of the Mercedes-Benz EQV 300 focused on. For several weeks, the development team subjected the first purely battery-electric premium MPV from Mercedes-Benz to an endurance test in Arjeplog, Sweden under severe climatic conditions. At temperatures reaching -30°C with icy roads and deep snow, the EQV proved its operability under extreme conditions. Thus, the vehicle completed one of its last milestones on the way to its market launch in the second half of 2020.
The vehicles were put through numerous complex tests on the test site close to the Arctic Circle. Over 30 engineers, electronics experts and mechanics drove over roads and frozen lakes, measuring the effects of extreme cold on handling, ergonomics and comfort. The starting behavior and low-temperature resistance of the drive components, software and interfaces, and the thermomanagement of the entire vehicle, were tested in cold cell facilities.
A further important element of the test: charging behaviour. The EQV is equipped with an integrated fast-charging function with which it can recharge from 10 to around 80% of its energy in 45 minutes. This is a great advantage, particularly when travelling, but it must function reliably regardless of the temperature.
The EQV is the second model of the Mercedes-Benz "EQ" technology brand. It is available in 2 wheelbase lengths and with a permissible gross vehicle weight of 3500 kg. The high-voltage battery is integrated into the underbody so that no space in the interior is sacrificed. The electric drivetrain of the EQV is located on the front axle. Peak output is 150 kW (204 hp), the Mercedes-Benz EQV achieves a maximum torque of up to 362 Nm (267 lb ft). It can reach a top speed of 160 km/h.
Source: Daimler AG