Western Star Expands OFFROAD Line with New XD-25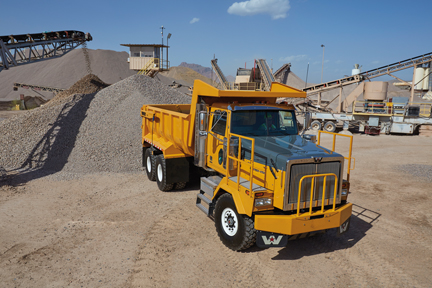 Western Star Truck Sales, Inc., has added a new option to its XD OFFROAD line. The new Western Star XD-25 is tough and versatile. Its 22.6 t capacity makes it ideal for smaller, off-road applications, such as construction, mining and quarry site hauling.
"The XD-25 provides yet another extreme duty option for customers who tackle the toughest challenges," said Kelley Platt, president, Western Star Trucks. "These units are specifically designed to handle off-road jobs without compromising fuel economy and cycle time efficiency."
The new XD-25 is available with a Tier 3 Series 60 or Detroit™ DD13® engine, and is powered by the Allison Off Road Series (ORS) transmission and planetary gear sets. Together, the engine and transmission combination results in more power for loaded applications and higher speeds when unloaded.
Additional features found with all Western Star XD OFFROAD products include rugged slippered spring suspensions, simplified maintenance components and metal fender butterfly hoods for long-life durability.
"Our customers want an off-road solution that has great ton-per-mile savings, and a lower purchase price over conventional articulated equipment. The XD-25 OFFROAD's low maintenance design and versatile platform configurations deliver on performance every time," noted Mr. Platt.
Source: Daimler Trucks North America LLC