Gas-Powered Prosperity in Asia Minor



Turkish pipeline contractor FERNAS Construction employs Volvo PL4809D rotating pipelayers on the Trans Anatolian Natural Gas Pipeline (TANAP) to bring Caspian gas from Azerbaijan through Turkey and onwards to Europe.
Gas pipelines export prosperity as much as they do energy – and TANAP is no exception. The development of the world's longest ongoing pipeline will improve security of both Turkish and southeast European energy supply and will enable Azerbaijan to diversify its gas export market. 
TANAP will connect with the expanded South Caucasus Pipeline and transport gas over a distance of 1,850 km to Turkey's western border with the EU. From there, gas will enter the Trans-Adriatic Pipeline (TAP), crossing Greece and Albania before linking to the Italian natural gas network. The 3 pipelines form the main arteries of the Southern Gas Corridor. 
The flow of gas will commence at the projected date of 2018. Initially, TANAP will supply 16 billion m3 of gas each year to Europe, of which 6 billion m3 will be delivered to Turkey. The gas will be sourced from Azerbaijan's Shah Deniz II field in the Caspian Sea, and will reach Europe in 2020, once construction of TAP is completed. Gradually, the pipeline's capacity will increase to 23 billion m3/y by 2023 and 31 billion m3/y by 2026. Final capacity is expected to be up to 60 billion m3/y of gas. 
The project spans from the border of Turkey and Georgia to Eskisehir Province in northwest Turkey, and is being constructed in 3 lots. A tender was open to construct Lot 1, which will ultimately include 11 valve stations and 3 pig stations along its route. By the time all 3 sections are complete, the pipeline will have crossed 20 provinces, ending at the Greek border in the Ipsala district of Edirne.
The construction contract for Lot 1 was awarded to FERNAS Construction late last year. This includes above ground installations and temporary camps to accommodate workers, as well as the building of pipe storage areas and access roads necessary during the construction phase of the pipeline.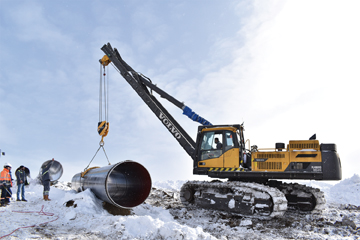 Established in 1982 as part of the FERNAS Group, FERNAS Construction quickly built a reputation as a leader in the fields of industrial complexes, oil and gas, energy, road construction, hydraulic works, mining, telecommunications and building. Since 1996, it has represented Turkish construction, especially in the oil and gas sector, with successful operations in Qatar, India, Iraq, Bangladesh and Oman.
The company's pedigree makes it the ideal company to handle the construction of Lot 1, which will use 142 cm diameter pipe – the largest used in the industry. The pipeline will run for 375 km, between the Turkish village of Türkgözü in the Posof district of Ardahan (located on the country's eastern border with Georgia) and Askale in the province of Erzurum. An estimated 150,000 pipe tubes will be required for TANAP, equating to an incredible total weight of 1.2 million t. 
The construction of the US$10 billion ($13 billion) project is progressing at whirlwind speeds. The first part of the Lot 1 section, a 79 km stretch between Imranli and Sakaltutan has already been completed.
But the project is not without difficulties. For example, winter in Turkey, with temperature dropping to -25°C, combined with its topography, makes for a challenging environment. Parts of TANAP's route reach altitudes of up to 3,000 m above sea level. In these areas, the construction season can be down to only 110 days of the year. Hills and mountains, with gradients up to 30°, make up to 60% of the entire route.
FERNAS is using 5 Volvo PL4809D pipelayers, supplied by respected local dealer Ascendum in November 2016. 
Initially, the pipelayers will be used to support bending and welding operations before moving on to laying-in alongside conventional sidebooms. Laying-in, or traveling on steep slopes presents a hazard. As gravity takes over, the pipe swings backwards, increasing weight to the rear of the machine. However, the Volvo PL4809D's unique 360° upper structure swing capacity allows the boom to be positioned uphill, enabling the load to be kept ahead of the machine, aiding stability and controllability. 
The PL4809D units are specified with a 96 t tipping capacity, or 102 t with the additional counterweight, as well as excellent stability and onboard load management system (LMS). To prevent the risk of a machine from sliding, FERNAS equipped the machines with spikes welded to the tracks.
These combined features played a significant role in the completion of the Imranli-Sakaltutan section, cited as the most challenging segment of the pipeline. With some 6,050 pipes to be laid, each of 13-13.5 m long, transportation was the first trial. The site is only accessible via 4 roads, so that forest paths had to be used for further transport operations.
FERNAS and its operators will continue to be supported through the project by Ascendum. Meanwhile, in neighboring Greece and Albania, Volvo equipment is hard at work with global pipeline contractor Spiecapag, engaged in both countries on sections of the TAP pipeline as it moves to link up with TANAP. While 30 Volvo excavators and 4 pipelayers have been deployed for TAP in Greece, over 50 excavators – including EC380D long reach and 10 articulated haulers – are being used in Albania. In both countries, the PL4611 pipelayers will be used for unloading pipe, thanks to their 110 t tipping capacity. 
Source: Volvo Construction Equipment