Brokk Brings More Power and Safety, Less Noise
with Darda Rock Splitter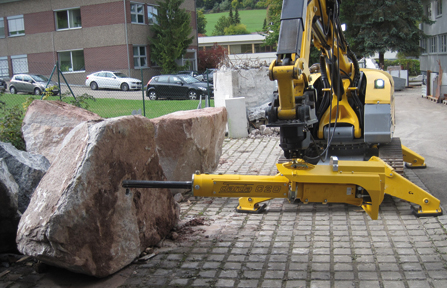 Brokk®, the world's leading manufacturer of remote-controlled demolition machines, introduces the C20 Rock Splitter. The attachment, manufactured by Brokk's German sister company, Darda®, offers contractors a safe and quiet alternative to explosives and hydraulic breakers. It increases productivity in industries including mining, quarrying, tunneling, construction and demolition.
"We never stop looking for ways to improve safety with our machines," said Lars Lindgren, Brokk Inc.'s president. "Paired with a Brokk 280 demolition robot and counter weight, the C20 Rock Splitter allows our customers to split rock with all the speed and effectiveness of breakers and chippers, but without the noise, vibration and danger common with that type of equipment."
The C20 Rock Splitter comes in 4 models; 2 vertical options ranging from 163 to 183 cm long, as well as 2 horizontal options, from 179 to 211 cm long. Contractors can use the splitter with Brokk machines ranging in size from the new Brokk 280 – if used with counterweights – and up.
The C20 Rock Splitter quickly breaks large boulders and solid rock in mining and shaft sinking applications as well as cross passage work in tunneling. Contractors drill a 76 mm diameter hole into the rock with a separate attachment before inserting the splitter. The attachment expands with as much as 1,600 t of force, splitting the rock.
The method is quieter, safer and produces fewer vibrations and dust than breakers and explosives. It presents contractors with a productive alternative in areas where potentially disruptive demolition techniques are not allowed, such as near hospitals, plus it works faster than expanding demolition chemicals, which can take hours. It is also a safer alternative to hand-held tools, such as pneumatic breakers, that produce heavy vibrations and can cause worker fatigue that leads to injuries over time.
The C20 Rock Splitter, when combined with a Brokk machine, allows laborers to work from a safe distance – typically 3 to 6 m away – using a belt-mounted remote control box.
The C20 Rock Splitter is one of more than 70 attachments that operators can quickly interchange on a Brokk machine for greater versatility on a jobsite. Brokk supplies a wide range of remote-controlled machinery and attachments around the world to maximize productivity, improve efficiency and promote safety.
Source: Brokk Inc.