AAL Delivers Giant Haul Trucks for Siberian Mining Project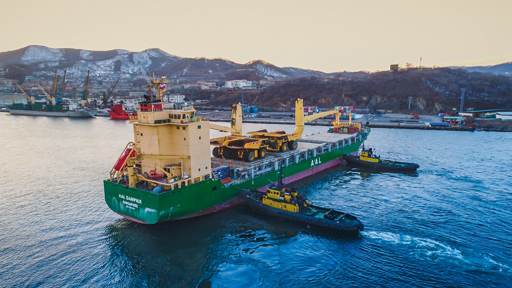 AAL, one of the world's leading multipurpose operators, has successfully completed the shipment of 13 enormous haulage trucks from Laem Chabang Port in Thailand to the Port of Nakhodka in Southeast Russia. The shipment was booked by AAL's Brisbane office and operated by AAL's Tramp & Projects team – a growing service established by the operator in 2011 to provide tailor-made and competitive shipping solutions to major industry projects around the world.
These Komatsu 830E ultra-class haul truck units – each over 14 m in length, weighing 170 t and featuring an immense 2,360 hp+ diesel powertrain – were transported on the 19,000 dwt S-Class AAL Dampier, on behalf of "2016's International Freight Forwarder of the Year", Freightplus. The trucks will be employed at a major Siberian mining project and are especially designed for off-road use in high-production mining and heavy-duty construction environments.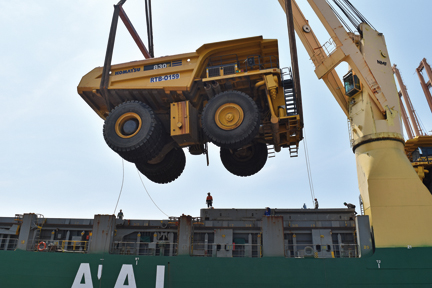 Namir Khanbabi, managing director of AAL's Tramp & Projects Division, commented: "We were delighted to partner with such a renowned freight forwarder as Freightplus and to have successfully completed the delivery of this important cargo ahead of schedule. The crane capacity of our S-Class fleet came into its own, giving Freightplus the assurance that each truck could be lifted, stowed and discharged at Nakhodka terminal without any reach issues. There was great communication between our 2 teams throughout the operation, supported by the expertise and diligence of the ship's crew and the technical knowledge of our in-house engineering experts, drawing on their experience of working on over-sized and specialist cargo shipments for the mining sector."
"We came to AAL Shipping with very specific needs, in relation to stowage, crane capacity and reach, vessel length and draft, deck strength, schedule and budget and they tailored a solution for us that ticked every box. Being a regular user of AAL's services in the Asia-Pacific region, we knew its very competent and dedicated team could be trusted to deliver as promised and that's exactly what they did. They performed like a well-oiled machine and exceeded our expectations in every respect," added John Gleeson, CEO at Freightplus.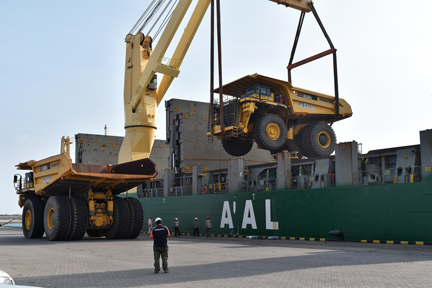 AAL has the sector's youngest fleet of new generation and technologically advanced multipurpose heavy lift vessels. The AAL Dampier is part of AAL's owned "S-Class" fleet, with each vessel featuring a combined lifting capacity of 700 t. These highly versatile vessels are designed to load and transport all manner of industrial and commercial heavy-lift and dry bulk cargo to and from the busiest, or most remote, ports around the world.
AAL is one of the world's leading breakbulk, project cargo and heavy lift shipping operators, providing a unique "total multipurpose solution" of tramp, liner and semi-liner services for its customers throughout Asia, Europe, Middle East and the Americas. Established in 1995, the company operates the multipurpose sector's youngest fleet – multiple classes of modern multipurpose heavy lift vessels (ranging from 19,000 to 33,000 dwt) and each designed to accommodate heavy lift and project cargo alongside breakbulk, containers and bulk.
Source: AAL