Stowe Mountain Resort Grows with 238 HSL & 298 HSL Steel Erection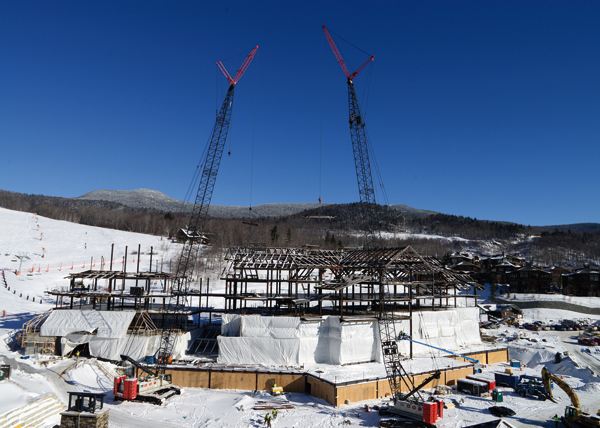 Raymond Chauvin started CCS Constructors, Inc. (CCS) in 1967 and specializes in steel erection and crane service in the northwest part of New England and into eastern New York. After serving in the Army Corps of Engineers and dealing with heavy equipment, he realized that there was a need for a crane service where he grew up. "We started a long time ago using Link-Belts and kept buying them ever since. Once you have a piece of equipment from a manufacturer that you can depend on, you're going to stay with them," he said.
After 46 years of operation Mr. Chauvin and CCS remain busy in New England lifting steel every season of the year. At the new Spruce Peak Adventure Center and Alpine Club buildings at Stowe Mountain Resort, CCS used 2 Link-Belt cranes to erect over 1,360 t of structural steel and place 250 concrete retaining wall panels. Cold weather was a factor for the project, as winter temperatures plummet to -30°C. "Everything has to work harder on the crane – the pumps to any of the hydraulics – it takes more fuel to run the machine when it's colder."
Raymond Chauvin also points out that the cold weather is not limited to affecting fuel consumption. "It's also harder on cables and sheaves. It's good to have sealed anti-friction bearings. Many mornings we exercise the cables to get any ice off of them, so they aren't so stiff. Ice can form on the boom tip after a day's work, if it snowed or rained the previous day and night. The ice has to be dislodged, so it doesn't fall onto anyone in the area within the boom tip and cables. Everything has to be working properly and safely for us to begin," he added.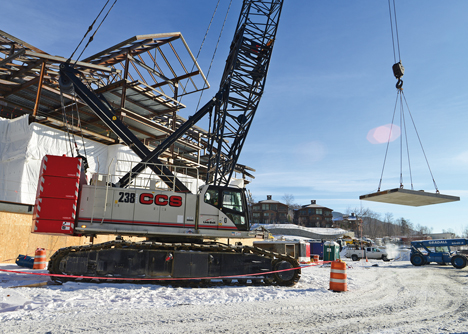 The Link-Belts cranes, a 226.8 t 298 HSL and 136.1 t 238 HSL lifted and placed steel and concrete panels from the southwest corner of the jobsite, staying out of the way of existing ski lifts and ski slopes. The 2 cranes expedited the construction process by placing concrete wall panels around the entire structure, eliminating the need for pour-in-place concrete during tough weather conditions. The panels weigh up to 22.6 t each and are placed at a 15.24 m radius, creating a perimeter for the jobsite at the base of the ski slope.
Production for both cranes averages 40 to 50 pieces a day in order to hang about 3,000 pieces of steel. Structural steel beams weigh between 136 kg and 2,268 kg each. Steel roof trusses weigh 2,722 kg and are placed at the greatest radius in order to complete the framework of the building.
The $68 million structure will have an exterior of structural steel light-gauge metal framing, along with high energy efficient glass. Composite insulated panels, with a foam core sandwiched between layers of metal, wood or cement, along with vapor barrier and drainage mat comprise just a few of the elements intending to make the project green. Geothermal energy will be used to operate the mechanical systems for part of the new development. There are also plenty of valleys, gables and shed dormers with classic gables and timber frames, keeping an Alpine architecture concept.