Money In Motion 25 Years and Counting: A Success Story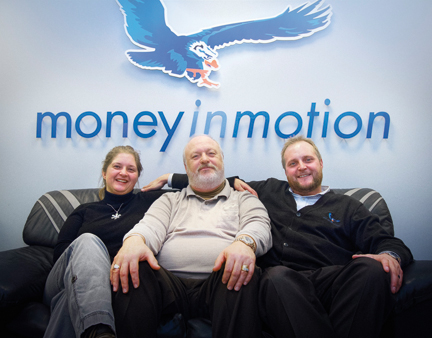 Alfred (Alf) and Susan Chisholm had a simple yet remarkable idea 25 years ago: they wanted to help out small business owners with their equipment financing when conventional sources said no. Alf had worked in the leasing industry for over 10 years and saw that equipment owners were being turned away for financing since they simply did not fit conventional financing that was available at the time. With a true passion for trucks and equipment coupled with a love for helping people, they set up shop as Money In Motion. Today, Money In Motion is one of the largest equipment leasing agents in Canada with 7 different branch locations.
Alfred and Susan Chisholm started their professional endeavour by setting up an office overtop a small town restaurant, Gloria's, in the heart of Sudbury Ontario. Alfred managed the sales end and Susan looked after administration and building the company culture. Being new business owners came with considerable responsibilities and pressure. However, both Alfred and Susan saw the niche market they originally believed was there. With this now confirmed, their entrepreneurial spirit kicked in. They started to build what we see today. They were told by many competitors that they were going to fail and that their company had no future. The two of them pressed on focusing on and meeting the needs of their customers and they have never looked back.
Alf's thorough knowledge of the equipment industry coupled with excellent contacts in the financial funding arena assisted them in seeing opportunities that led to dramatic growth. "We have focused very heavily on providing the client with a competitive flexible product coupled with a delivery system through outstanding sales people that truly care about their clients." – Alf says about his strategy.
Mr. Chisholm believes that the secret of their success consisted mainly through their relationships with their clients and their funding partners and staying on top in their market means delivering leasing/financing products to their customers that truly meet their needs. The biggest part of this is truly listening to what the client needs. "We have no room for arrogance in our group and we are truly thankful for each and every client we have and we want them to know that, to understand the importance of the relationship for both parties. We're not much for suits and ties and enjoy a casual business relationship with our clients. We want to learn about their business and then help them grow it as they see fit."
"At Money In Motion, we wear our hearts on our sleeves when it comes to people who are less fortunate then ourselves. Our team focuses on a variety of children's charities, we are solid sponsors for World Vision, Operation Smile and the Make-A-Wish Foundation internationally and locally we are strong advocates of KICX for Kids. In fact the celebration of the company's 25th anniversary event is being organized together with KICX for Kids to support its ongoing campaign for pediatric care in the North in November."
It has been an amazing trip over the past 25 years and the group is very fortunate to have a natural succession plan in place with Erin and Kurtis Chisholm to take over the helm of the operations as Alf and Susan start to move towards retirement. The company has an excellent management team and a strong and versatile team that coupled with the second generation of the Chisholm family stepping up there are considerable growth plans in mind for Canada.
The team of Money In Motion is confident that the genuine, caring approach that the company has practised for decades will keep them ahead of their competitors for many years to come.
Source: Money In Motion