Wacker Neuson Offers Wheel Loaders Designed for Snow Removal
When it comes to snow removal, the job can call for removing a light dusting off a sidewalk or moving heavy snow from parking lots and roadways. Wacker Neuson offers wheel loaders that have proven to be extremely effective for snow removal from a dusting to a blizzard.
Wacker Neuson's WL 30 articulated wheel loader is the ideal choice for snow removal in confined area. When outfitted for snow removal, the WL 30 is the only wheel loader on the market designed to fit 1.2 m (48'') wide sidewalks. Add an optional salt spreader and contractors can plow and salt in one easy pass. The low provide machine also fits under sidewalk canopies. The universal skid steer attachment plate makes it easy to switch between, blower, broom or pusher. This versatile machine is popular with snow removal contractors whose core jobs include malls, commercial parking lots, university campuses, hospitals, apartment complexes and municipal sites.
For larger jobs, contractors turn to Wacker Neuson's WL 37 for serious snow removal. Another unique machine from Wacker Neuson, the WL 37 is the only machine in its class to offer a true high flow option. This 3.7 t models features a high flow auxiliary hydraulics for enhanced attachment performance. With the optional 125 l/min - 32 km/h high flow, high speed package the WL 37 can easily operate high flow attachments such as high performance snow blowers and other attachments. The WL 37 has the pushing power and traction, plus the universal skid steer attachment plate to easily manage a variety of attachments including box blades.
Wheel loaders are the preferred machine for snow removal for a variety of reasons. Productivity is often associated with operator comfort. Wacker Neuson wheel loaders offer a spacious heated cab, adjustable seat and ergonomic controls for longer operation. Excellent 360° visibility is essential during snow removal, especially in populated areas and parking lots. Snow removal applications often take place during night-time hours or low light conditions. Six working lights and rotating beacon further improve visibility for safer working conditions. Wheel loaders are also more cost effective to operate compared to skid steers. Owner/operators can see up to 30% savings in fuel costs and up to 75% tire savings, plus have an overall a longer working life.
Wacker Neuson wheel loaders can easily be transferred from snow removal machines to summertime work horses.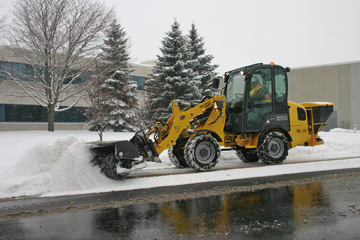 These are the ultimate machines for all seasons. The WL 37 offers a straight load capacity of 2,688 kg and fully articulated tipping capacity of 2,228 kg using a standard 0.6 m3 bucket. Using palette forks, this unit can move 1,360 kg pallets. Power comes from a 4-cylinder, 77.8-hp turbo charged Deutz diesel engine, which performs equally well in high altitude.
Besides snow removal, the WL 30 is ideal for landscape, general construction and agricultural applications. The four wheel drive with articulated steering provides for excellent maneuverability in tight spots. The WL 30 offers a straight load capacity of 2,013 kg and articulated tipping load of 1,655 kg when using a standard 0.45 m3 bucket. This unit is powered by a 48-hp Perkins engine diesel engine.
Additionally, Wacker Neuson's versatile wheel loader line is available in a variety of sizes and options. Matched with the right attachments, these premium tool carriers are a perfect fit for any job.
Source: Wacker Neuson