Nissan's Blueprint for Affordable Overlanding Experiences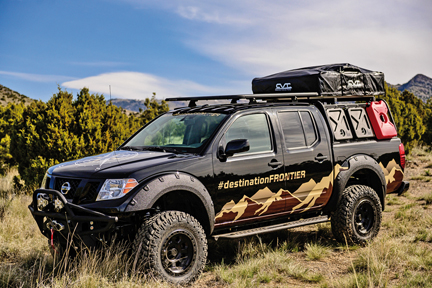 "Hobbies don't have to cost a fortune." That's the statement Nissan was making with the recent debut of the one-off Destination Frontier, a highly capable, high-quality overlanding truck built on a budget.
Overlanding is an exciting form of outdoor adventuring taking participants into sometimes-extreme terrain and climate conditions – often thought to be only for ultra expensive modified trucks and SUVs. All in, the Destination Frontier one-off truck can be created for around US$40,000 ($54,000).
Starting with a 2019 Frontier Crew Cab SV 4x4 Midnight Edition, the modifications concentrate on enhanced ground clearance and overall body and drivetrain protection from off-trail obstacles. First, a Nisstec lift kit and Nitto Trail Grappler off-road tires mounted on American Racing AX201 wheels were installed, providing the overlanding-necessitated extra height and rough terrain traction.
A Hefty Fabworks front bumper, skid plates and rock sliders were added for an additional level of protection for the engine, transmission and body. Also added up front was a powerful WARN Industries ZEON 10-S winch, WARN Winch Roller Fairlead and WARN Epic Winch Hook for helping negotiate extra tough situations.
Since overlanding adventures are known to extend beyond simple day trips, a Leitner Designs bed rack, topped with a CVT Mt. Shasta rooftop tent, was added along with items such as a Dometic fridge/freezer and slider, Rhino Rack Pioneer Tray and Baja Designs LP6 Pro lights. Helping keep the dirt and mud where it belongs – off the carpet – are WeatherTech floor mats.
Frontier offers exceptional acceleration, towing capacity and all-around off-roading ability. Its powerful engine – a 4.0 l V6 producing 261 hp and 281 lb ft of torque – is specifically tuned for the unique demands of truck use. Frontier's maximum towing capacity is rated up to 3,000 kg when properly equipped.
"Frontier has a tremendous reputation for quality and durability – making it a terrific platform for overland adventures where the nearest service station or road could be miles away," said Tiago Castro, director, Light Commercial Vehicles, Nissan North America, Inc. "We believe Destination Frontier will spark the imagination of customers who would like to get into overlanding but don't want to spend a fortune in the process."
Source: Nissan North America