0% Emissions. 100% Electric. The All-New eCollect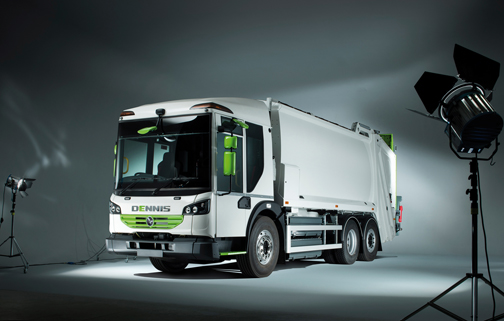 Visitors at IFAT, held last May in Munich, Germany, had the opportunity to preview the next big innovation from refuse collection vehicle manufacturer Dennis Eagle, with an exclusive first glimpse at the company's new eCollect electric vehicle, due to go into production towards the end of 2019.
A fully-integrated product (low-entry chassis, refuse compaction body, bin lift and telematics system) with specifically-designed battery packs and control systems, the eCollect features 300 kWr next-generation batteries, incorporating the latest available technology, with a 200 kW electric motor driving a conventional axle.
It will initially be available in a 26 t 6x2 rear steer narrow (2.25 m wide) configuration with left or right-hand drive options, a 19 m3 narrow body and automatic split bin lift.
"We are very excited to be unveiling our new eCollect electric model at IFAT, said Kevin Else, managing director at Dennis Eagle. "It is the result of many years' R&D, and we are confident the end result will offer our customers a more environmentally friendly refuse collection vehicle that delivers affordable lifetime costs, whilst delivering zero emission waste collection and transportation."
Aside from the replacing the diesel engine with an electric drive system, minimal changes to the vehicle design were made, helping to ensure ease of maintenance, as well as product familiarity with drivers and crews.
"As part of our rigorous development process the vehicle is currently being subjected to extensive trials and technical verifications. These are designed to optimize battery management software, enabling the range of the vehicle to meet the requirements of urban collection and ensuring it provides a viable, high-performance solution comparable to traditional fuel types, added Mr. Else."
Source: Terberg, RosRoca Group