Commitment to Industry, from McNeilus at Waste Expo 2018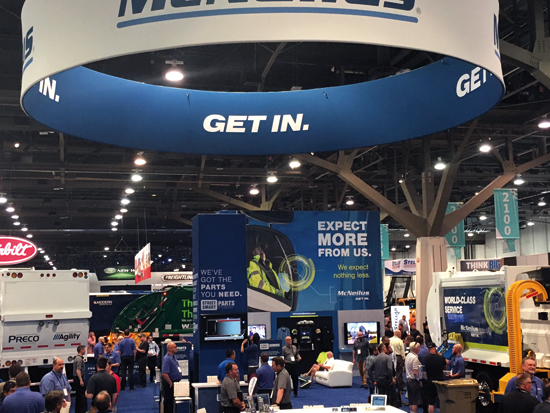 McNeilus Truck and Manufacturing, Inc., an Oshkosh Corporation company, showcased its best in refuse vehicle innovations, along with featuring factory-direct parts and service options, at Waste Expo 2018, held from April 24-26 in Las Vegas, Nevada. As part of its customer-first focus and commitment to the industry, McNeilus has also made significant donations to the National Waste & Recycling Association (NWRA) Women's Council scholarship program and the Environmental Research & Education Foundation (EREF) charity auction, both of which were highlighted throughout the convention.
As part of the EREF live auction, McNeilus has donated its Atlantic Series Front Loader® and a pair of tickets to NASCAR's NRA Night Race at Bristol Motor Speedway to the silent auction. These auctions generated funds to assist the EREF's scientific research and educational initiatives for sustainable waste management practices. In support of the NWRA Women's Council, McNeilus partnered to donate US$100,000 ($130,000) to the organization's scholarship program.
A Meridian™ Front Loader, Atlantic Series Front Loader® and Zero Radius™ Side Loader, as well as an interactive display for the McNeilus CODE™ controls system, featuring a new touchscreen display and integrated with collision-avoidance radar-sensing technology from PRECO Electronics, were showcased in McNeilus booth. Ten additional McNeilus vehicles were featured in partner booths and display spaces throughout the tradeshow.
In its Street Smart Parts and Service display, McNeilus promoted its factory-direct capability and its mobile technician network to get customers the parts and services they need when they need them. The display area also featured interactive e-commerce kiosks highlighting the online Street Smart Parts portal, where customers could place orders, access to parts catalogs, operators' manuals, technical bulletins and more, 24/7.