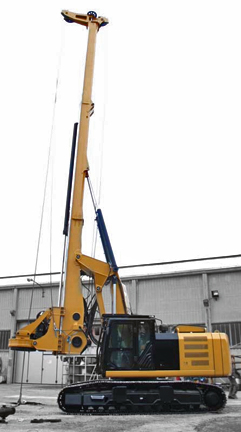 Hercules Machinery Brings Renowned
HPM Drilling Equipment to North America
Hercules Machinery Corporation (HMC), a manufacturer and supplier of foundation equipment, is now partnering with HPM, Srl as the exclusive dealer for HPM foundation drills in North America, Central America and the Caribbean.
HPM, which manufactures drill mast assemblies that are mounted exclusively on Caterpillar chassis, is owned by preeminent drill designer Giuseppe Cartechini, whose designs can be found all over the world. Built with high-strength materials, HPM foundation drills provide excellent stability without the need for a large base, providing high performance and value.
"I design every drill to be as safe, efficient and reliable as possible with exceptional visibility and straightforward controls for smooth, precise operation and excellent maneuverability," said Mr. Cartechini.
Hercules Machinery Corporation imports the mast assemblies from Italy and purchases the Caterpillar chassis from Caterpillar OEM solutions, which means all assembly takes place in the United States. HMC now has HPM200 and HPM250 units in stock and ready for rent or sale at its locations in Fort Wayne, Indiana, and Rocklin, California.
"This is truly an exciting time at Hercules as we partner with one of, if not the, greatest drill designers of all time, Giuseppe Cartechini, and HPM," said Justin Reed, vice president of Hercules Machinery Corporation. "With this partnership, we can now offer our customers foundation drills that are unsurpassed in strength and quality, all at a competitive price."
Established in Fort Wayne in 1964, HMC manufacturers, wholesales and leases foundation construction equipment such as pile-driving hammers and deep foundation-related machinery. Additionally, HMC offers custom contract engineering, prototyping and CNC services for its customer base. HMC has recently expanded its product mix in order to serve the alternative energy construction segment. HMC is realizing tremendous success with its Sonic SideGrip® vibratory pile driver – a piece of equipment that is revolutionizing the way contractors drive steel sheet pile, H-beam and pipe pile.
Source: Hercules Machinery Corporation