First Integation of John Deere Interim Tier 4 Engine in Canada
Carried Out by New Way Diesel Team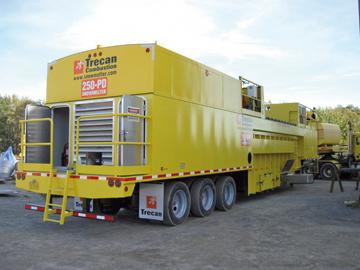 New Way Diesel, the John Deere engine distributor for Atlantic Canada, is really proud to have completed the first integration of a John Deere Interim Tier 4 diesel engine in Canada. This installation in a Trecan Combustion 250-PD Snowmelter was completed at the end of 2011.
While New Way Diesel and John Deere provided the technological support related to the application of the engine, Trecan Combustion's team of engineers coordinated the efforts todesign an extraordinary engine compartment. Thanks to the efforts of Glenn Burnett (Trecan Combustion), Stéphane Gagnon, P. Eng.(New Way Diesel) and Dave Mundt, P. Eng. (John Deere Power Systems), the integration of a 6090HFC94, 275 hp @ 2200 rpm was a huge success.
By Providing high quality John Deere engines and other products, sound expertise and complete support to its valued customers such as Trecan Combustion in Nova Scotia, New Way Diesel is proving to be a leader in the field of diesel engines in Canada.
Source: New Way Diesel