AEMP Announces 2012 Technician of the Year Recipients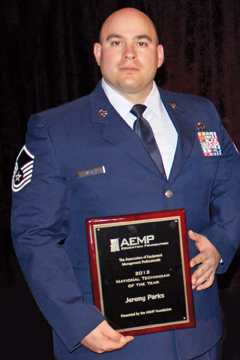 The Association of Equipment Management Professionals (AEMP) is pleased to announce this year's Technician of the Year honors were given to the U.S. Air Forces, Europe and Kokosing Construction. Master Sergeant Jeremy Parks Sr., EMS, of the U.S. Air Force, Europe was named Technician of the Year in the public sector, while Tom Swisshelm of Kokosing Construction received the private sector award.
Each year at AEMP's Management Conference and Annual Meeting, two outstanding heavy equipment technicians are honored with the Technician of the Year award, one each in both the public and private sector. The award is co-sponsored by AEMP and John Deere. In its 23rd year, the Technician of the Year award acknowledges professionals who exhibit technical skills, and innovative trouble-shooting and diagnostic capabilities, as well as those who make significant contributions to the equipment technician profession.
Master Sergeant Jeremy Parks Sr., EMS, exemplified the attributes of an AEMP technician as he managed the U.S. Air Force ground transportation fleet in Europe. In addition to managing 8,000 vehicles, Mr. Parks was responsible for the management of, including equipping and training, 1,000 military and host nation technicians throughout Europe. He has served on several working groups developing guidance and policy that supports a very diverse fleet and ground transportation capability for contingency operations.
An employee of Kokosing for 12 years, Tom Swisshelm began as a field mechanic in the central Ohio region and moved up to his current position, asphalt equipment master mechanic in the company's Asphalt Maintenance Group. In this position, he oversees and manages the safety and daily scheduling of seven field mechanics throughout their Ohio market regions. No stranger to recognition for his work, Mr. Swisshelm has been deemed "the technician you wish you could clone" by many companies, due to his ability to excel in every area and boost the growth of all those around him.