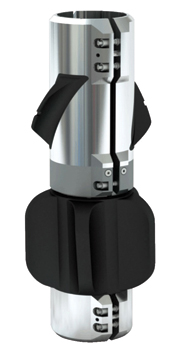 New Products at 2009 IADC/SPE Drilling Conference
Downhole Products, PLC recently previewed their latest innovation, the Drilling Enhanced Performance System Tool (DEPS), to attendees of the 2009 IADC/SPE Drilling Conference in Amsterdam. This patent-pending tool provides solutions for torque, drag and cuttings bed challenges in extended reach and ultra reach drilling.
A prototype of the DEPS™ tool was on display and Downhole Products' Bill Barron was on hand to answer technical questions from potential customers. Mr. Barron noted that the company had invested heavily in research and development to deliver, what he considers, an industry-needed solution.
"Operators shared their problems with us and we studied, designed and evaluated solutions for their issues for more than six years. All of that energy was funneled into this DEPS tool which essentially combines the functions of multiple drill string tools into one innovative design," Bill Barron explained.
He added, "There is a lot of risk involved when you add more and more components on the drill string. This was an effort to help our customers streamline their BHA while still retaining the benefits of hole cleaning, torque reduction and vibration mitigation tools."
The DEPS tool is a multifunctional device providing solutions for: cuttings removal; drill string drag reduction; drill string torque reduction; pipe buckling; stuck pipe; casing wear; and axial, lateral and torsional vibration.
Downhole Products also featured their industry-leading centralization and advanced reaming shoe products at the conference. Additionally Downhole Products had examples of the "Grippy" cable and control line clamps at the exhibition.
Source: Downhole Products, PLC