Effective Compaction With an Innovative Remote Control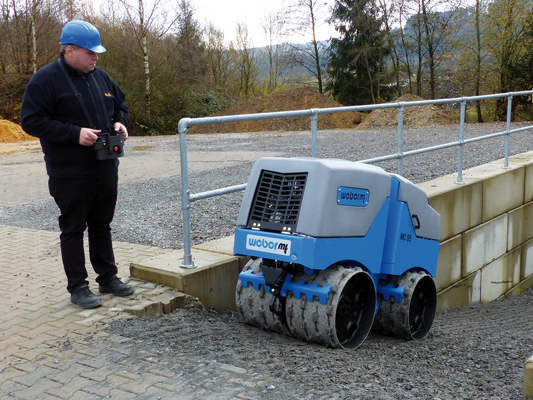 Weber MT's new MC 85 trench roller with articulated steering performs at its best where conventional soil compactors come up short. Sturdy and powerful, it delivers exceptional compaction performance on wet and clay-like soils. Another key advantage: its safe and simple operation.
Cohesive soils are often difficult to compact. However, the MC 85 trench roller made by Weber MT handles such conditions with ease. The combination of high centrifugal force and the kneading effect of the sheepsfoot drums allow this machine to even compact clay-like soils that are saturated with water.
The hydraulic articulated steering offers good traction without the freshly compacted soil being torn up from the drums turning. Whether used for the compaction of base layers for foundations, paths or parking lots or for pipeline and sewer construction, this new powerhouse convinces all around with its impeccable results.
Also catering to the single largest market for trench rollers - the United States, Weber MT factored customer requests and standards from around the world into the development of this machine. It comes with a new, innovative and easy-to-understand radio remote control. Since a second battery is charged directly within the machine during operation – remote control and machine remain ready for use at all times. The color display of the remote control provides information on the current steering commands and gathers information for machine diagnostics. Besides information on engine cooling, low oil or air filter fouling, it also indicates the number of operating hours.
Equipped with a modern and powerful, water-cooled 3-cylinder diesel engine from Kubota, Weber MT's MC 85 trench roller fulfills Tier 4 final emission regulations.
As an added benefit, it is highly energy efficient and economical. This efficiency is due to the low fuel consumption per working hour one the one hand and the integrated eco mode of the machine on the other. When the remote control is not in use, the engine automatically switches to idle speed.
This new trench roller also impresses in terms of durability and operational safety. The machine's drum housings are completely sealed and fully protect against the ingress of water or associated damage. The oil-lubricated vibration exciters make maintenance easier and provide for a long service life as does the protective hinged engine hood, which can also be locked if necessary.
All hydraulic hoses are safely installed and protected against chafing is another safety benefit.
The operator can choose between 2 compaction settings (36 and 73 kN) and between two driving speeds. Vibration is optional and can be switched on using the automatic function, allowing the operator to compact with only one driving command.
Source: Weber Maschinentechnik GmbH