Maxim Crane Works Purchases the First North American Grove GMK5250XL-1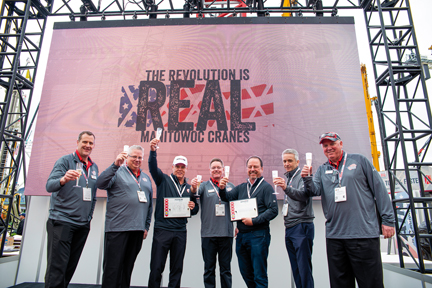 Maxim Crane Works just picked up an award from Manitowoc Cranes for being the number one Potain tower crane customer by dollar amount and number one top slewing crane customer by units in North America over the last 3 years, CONEXPO 2017 – CONEXPO 2020. The Pennsylvania-based company has been an early adopter and dedicated renter of many models of Potain tower cranes over the years, significantly influencing the lifting industry across the country.
And continuing its commitment to Manitowoc, Maxim Crane Works also celebrated the purchase of the first Grove GMK5250XL-1 for North America. The crane was launched at bauma 2019 and makes its North American debut at CONEXPO 2020, where the company's leadership, including the COO Frank Bardonaro, CEO Bryan Carlisle and CFO Carl Laurino commemorated its purchase in a ceremony with Manitowoc's Mike Heacock, Les Middleton, John Kennedy and David Hull.
Source: The Manitowoc Company, Inc.