Jeep® and Mopar Brands Unveil 7 Concepts for the 52nd Annual Moab Easter Jeep Safari
The Jeep® and Mopar brands have once again joined forces to create 7 concept vehicles for the annual Easter Jeep Safari in Moab, Utah, March 24 – April 1. For the 52nd year, thousands of off-road enthusiasts headed to Moab for the annual Jeep event to participate in a week of technical off-roading on some of the most picturesque trails that the country has to offer.
The 2018 Easter Jeep Safari concept vehicles included: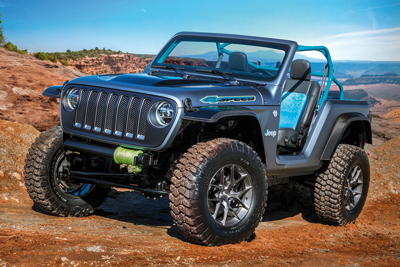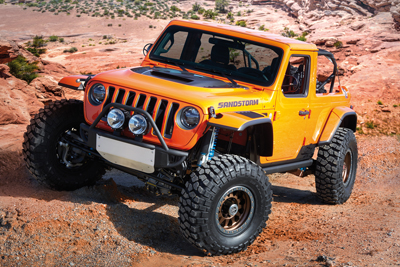 Jeep 4SPEED - light, quick and nimble, this latest lightweight concept, following the popular Pork Chop concept in 2011 and Stitch concept in 2013, bolsters Wrangler's off-road capability and performance through extensive weight savings, and showcases the all-new 2.0 l turbocharged I4 engine. In addition to being lightweight, overall length has been shortened by 56 cm while leaving the wheelbase at its stock length, resulting in increased approach and departure angles. The Jeep 4SPEED features Dana 44 front and rear axles with a 4.10 gear ratio and 35" tires.

Jeep Sandstorm - inspired by Baja desert racers, it isall about blitzing long,sandy straightaways while still being capable of handlingthe daily driving duties. To accomplish this, the Sandstorm features off-road hardware that will handleboth with ease, including an extreme-duty suspension system and a powertrain with excess power on tap. The front axle has been moved forward 10 cm and utilizes a heavy-duty long arm 4-link suspension and track bar. The rear axle has been moved back 5 cm and utilizes a triangulated trailing arm 4-link suspension. The longer wheelbase allows for increased high-speed stability. Custom coilovers and bypass shocks allow the front wheels to travel 355 mm while the rear wheels can travel up to 457 mm. The Jeep Sandstorm concept includes Dynatrac 60 axles with a 5.68 gear ratio, and 39.5" tires. The engine is a 6.4 l V8 from the Mopar performance catalog and is mated to a 6-speed manual transmission.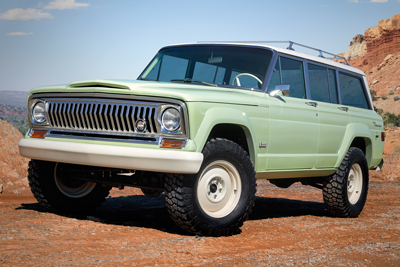 Jeep B-Ute - is equipped with a variety of Jeep Performance Parts for the ultimate off-road adventure including a lift kit, roof rack and rock rails. Off-road capabilities are increased by using 17" wheels with a 30 mm offset. The Jeep B-Ute is powered by a 2.4 l Tigershark engine, mated to a 9-speed automatic transmission.

Jeep Wagoneer Roadtrip - retains its heritage and charm as it continues to utilize its original steel body, while the chassis and drivetrain have been updated. The wheelbase has been stretched 127 mm, and the body has been updated to accept the additional length, a wider track and custom fender flares. Other subtle exterior styling tweaks include reshaped wheel wells, bumpers and integrated rock rails. Off-road capability has been bolstered courtesy of a boxed and reinforced frame, Dana 44 front and rear axles with lockers, 4-link suspension with coilover springs, and 17" steel wheels wrapped in 33" tires. It is powered by a 5.7 l V8 and is mated to a 4-speed automatic transmission.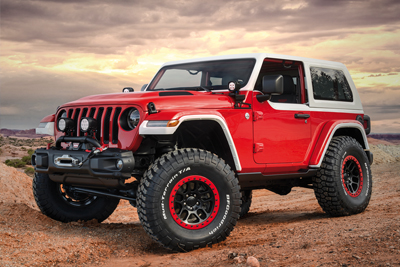 Nacho Jeep - serves as a rolling catalog loaded with selections from the Mopar brand's Jeep Performance Parts (JPP) menu, offering a blueprint off-roaders can follow to create their own custom trail vehicle. A lift kit elevates the Nacho concept for increased off-road clearance and includes aluminum body shocks and 37" tires.

Jeep Jeepster - based on a Wrangler Rubicon, evokes the color palette and speedy styling of the 1966 Jeepster. A lift kit and aluminum body shocks work with 37" tires to raise the Jeepster above off-road obstacles.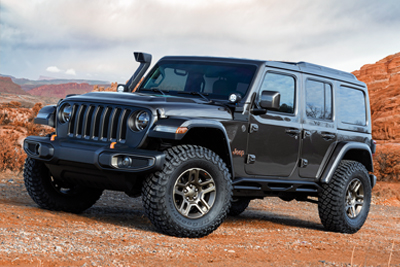 Jeep J-Wagon - starting as a Wrangler Sahara, it features a version of the JPP hood designed with a cutout kit to work with the available snorkel. New LED lights with JPP brackets deliver commercial and military grade illumination.
The Jeep Performance Parts portfolio provides enthusiasts with high-end, hard-core quality aftermarket accessories and performance parts. Each part and accessory is specifically designed, built and quality tested to help transform stock rides into even more capable trail performers.
The Jeep Safari was started in 1967 by the Moab Chamber of Commerce. Easter Jeep Safari consists of trail rides, mostly day-long trips, departing from Moab, Utah, throughout the 9-day-long event.
Source: FCA US LLC