Alliance Autogas Mobilizes Vehicle Conversion into Simple and Efficient Steps at Work Truck Show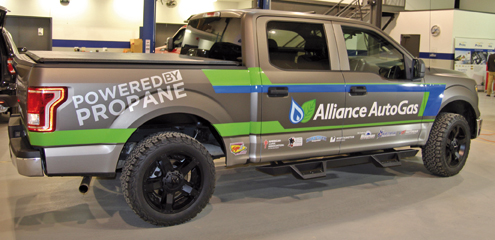 Alliance AutoGas, with a history of helping over 10,000 vehicles make the transition from gasoline to propane autogas, has converted a Bi-Fuel 2016 3.5 L Ford F-150 V6 on Thursday, March 3 during the Work Truck Show in Indianapolis, Indiana.
The live conversion was going for the "Fastest Recorded Alternative Fuel Conversion to Propane Autogas." Alliance AutoGas installs a handful of parts, including a secondary fuel tank to store the autogas, an injector spacer plate, and engine control unit (ECU). The 79.5 l autogas tank is placed on the underbelly of the truck. The ECU acts as the switch that allows the vehicle to toggle from gasoline to autogas. It is connected to the vehicle with one plug.
Alliance AutoGas has its own injection technology utilizing an injector spacing plate. The bolt-on part allows, at a set position, for the propane to flow into the engine. The "plug and play" technology replaces the need for any drilling or cutting of any parts or wires. The system does not require any permanent vehicle modifications and can be removed, which is especially convenient for fleet managers who lease vehicles.
"Any fleet that covers a substantial amount of miles would have a real-life savings very quickly," notes Ed Hoffman, president of Blossman Services, Inc., the equipment distributor for Alliance AutoGas.
Users can see dramatic CO2 emission reduction which helps fleet managers meet and surpass sustainability initiatives for medium and heavy-duty truck fleets.
The system is compliant with the U.S. Environmental Protection Agency (EPA) and National Fire Protection Association (NFPA) 58 standards.
Source: Alliance AutoGas