Camso Tires Keep Skid Steers Rolling in Massachusetts
A large construction company in Massachusetts recently chose to fit its skid steer fleet with the new Camso SKS 532 tires for a balance between traction and service life. After putting the SKS 532 to the test, the J. Masterson Construction Corporation quickly saw its value.
"This tire really gives us a good middle ground for traction, performance and service life as well as reduced cost per hour benefits," says Kevin McGuire, Masterson Construction's fleet manager.
With their large fleet of equipment doing all different jobs, J. Masterson Construction was having a hard time finding a tire that would give them the performance and quality they need for general duty jobs. On any given day, the company is operating between 20 and 40 skid steers on different surface conditions. And this is above and beyond the skid steers the company owns through its equipment rental division, MasterRents.
Cost savings is not about buying the lowest-priced tire
Durability is the key factor affecting Mr. McGuire's choice in tires. Buying the lowest-priced tire often means that staff must spend more time doing tire repairs and putting on replacements while dealing with customer complaints. If any one of the skid steers is down due to a flat or damaged tire, it could cost Masterson Construction thousands of dollars.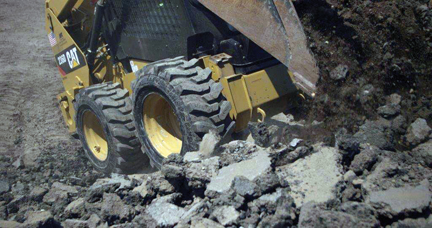 Understanding Kevin McGuire's need for durability, Masterson Construction's tire dealer recommended the Camso SKS 532. Camso designed the SKS 532 for optimal durability and traction with extra-deep directional tread and curved tread lugs. Its unique stepped tread pattern provides excellent mud clean out for better off-road traction and comes with new void guard tread protection to reinforce and protect the carcass from punctures and flats.
Mr. McGuire decided to try them out. He asked his operators to test the tires in the company's materials area. The skid steer operators ran the SKS 532 tires on everything from mud, dirt and rocks, to steel debris and concrete while lifting heavy loads. The SKS 532 proved to be a winning solution for Kevin McGuire. "These tires have a better rubber compound than their previous generation of Solideal Xtra Wall as well as a good tread design. They give us the traction that we need without sacrificing service life," he says.
Mr. McGuire noted that in their MasterRents rental operation, a lot of the skid steer tires come back off rent with sidewall damage. Through research, Camso discovered that impact to the sidewall is actually the leading cause of premature failure in skid steer tires. To protect against sidewall damage, the SKS 532 incorporates Camso's impact guard sidewall design that deflects objects and debris away from the tire.
Camso introduced the next-generation, bias-ply SKS 532 last October to provide the lowest operating cost solution for general duty applications on soft soil surfaces.
"Camso is continually improving and expanding on its industry-leading selection of skid steer tires and tracks," says Mike Dembe, Product Management director, North America and Latin America – Construction. "We've taken durability to a new level with the Camso SKS 532. It surpasses its predecessor, the Solideal Xtra Wall, with 30% longer life."
"In a large fleet like ours with over 300 machines, 30% longer life can make a huge difference in operating costs," says Kevin McGuire.
The right tire for the application
"At Camso, everything we do is designed to provide our customers with their lowest operating cost solution. By providing customers with the widest range of skid steer tires on the market, we give them the ability to find the best tire to suit their particular application," says Mr. Dembe.
Kevin McGuire appreciates the choice. "Between the SKS 532s and some of the other options Camso has for us, it gives us a full toolbox to pick from. It allows us to put the right tires on the right machine for the right job," he says.
Source: Camso